The K1USN Radio Club, a non-profit group of civilian, former and active military radio hobbyists, with Amateur Radio Stations at the Watson Library municipal building, located at 85 Quincy Avenue, Braintree, MA USA 02184. If you need a license, we run VE exam sessions every month. If new to the hobby, we can show you how it all works!
K1USN Lending Library WRTC2018 recap Club Photos

---
K1USN will be

CLOSED

Saturday mornings for at least the next few weeks (January 8th & 15th, 2022).


Please check into our

informal ragchew net @

9am Saturday morning

on the

W1ATD

Marshfield repeater

(145.390MHz-67pl).
This has now been resumed after the summer 2021 break.

---
Honoring All Veterans on Veterans Day
Thank you for your service and sacrifices.
K1USN was on the air Thursday November 11th, 2021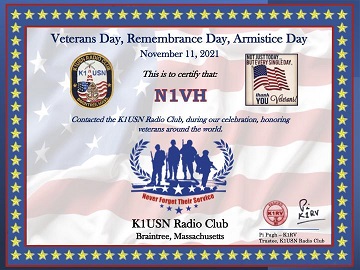 Thanks to all who made contact with our K1USN stations!
We now have a new version of our QSO Certificate for 2021.
Certificates, in Adobe PDF

format, will be emailed to those who submit a request.
If you made contact with K1USN on Veterans Day 2021 and would like a certificate,
please fill out this online request.

---
The K1USN SST


FYI: K1USN SST QSO Practice videos from Kurt Zoglmann, AD0WE. Details on our

SST webpage


A weekly CW Slow Speed [con]Test


US Daylight Savings Time (DST) ends Sunday November 7th at 2AM




Fridays at 20:00-21:00 UTC (3-4pm

EST

)
Mondays at 00:00-01:00 UTC (7-8pm

EST

Sunday)


now including the 10 & 15 Meter bands


Full details on our SST webpage
---
K1USN

Zoom

session info:

If interested in joining our next Zoom session, please email

Pi K1RV

at pi.k1rv@gmail.com
If you wish to be on our invitation emailing list, please let Pi know.


Past K1USN ZOOM

sessions can be found on our

ZOOM

archive page

We're looking for presentations for future

ZOOM

meetings. If interested,

please let us know

.

---
Great Hill Gang happenings


Swap net Friday evenings, 8PM has now resumed on the W1ATD 145.390-pl67 repeater

2 Meter SSB net Monday nights, 19:00 EST (7PM), 144.244MHz USB
Field Operations at Great Hill Park in Weymouth - 2nd Saturday of the month (approx / weather dependent) starting at 9am.