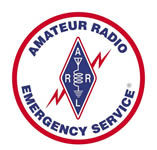 Rhode Island ARRL Section
Amateur Radio Emergency Service (ARES)
Member Registration and Record System

This is a web-based registration and record system for members of the Eastern Massachusetts Amateur Radio Emergency Service where your membership information will be recorded in our ARES membership database.
Our served agencies may have specific requirements for personnel that are provided by ARES and this information enables us to better meet their needs and expedite credentialing of hams who respond to a call for assistance.

We hope that our ARES team members will maintain their information and keep it current including the various training courses they complete. Please use the "Training" link at the top of your membership record page to update your training information. Remember, ongoing training helps us to maintain our readiness and skills.
If you wish to become a Rhode Island ARES team member, and you have not already registered on-line, please select the "New Application" link and fill out the member registration form.
Thank you for your interest in becoming part of the Rhode Island ARES team.